Catching a passerby's eye has never been so easy.
The holiday season is a wonderful time filled with love, joy, and all things Christmas. But for some, it can be a stressful season where people struggle for perfection and worry about decorating. This doesn't just apply to interior design. When it comes to improving your home, it's easier now more than ever. Looking for tips on how you can decorate and add personal touches to make your home more desirable?
Let's talk about curb appeal!
What is curb appeal and why does it matter? The touches and features of a home that make a property more attractive are what we like to call curb appeal. If someone standing at the curb of your house were to look at your property, what would they say? Would they like the color of your roof or the way the lawn has been taken care of? For those looking to increase the value of their home or make a lasting impression in their neighborhood, great curb appeal is very important.
So how can one spruce up the place over winter?
1. Invest in some winter interest plants!
Plant some bushes and landscapes that bring forth berries, blooms, or color during the snowy months. Amongst all the white, it looks nice to have a pop of color! Nandina Domestica and Beautyberry are some of the top choices from landscapers. Their bright berries and deep redwood last all winter long.
2. Lighten up the place!
It is that time of year and a lot of people like to look at the fun Christmas lights. You could land yourself on the map in your neighborhood for having fun and inviting lights. Even if you keep it small, it still makes your home feel warmer and more welcoming in an otherwise dark and dreary corner of the yard.
Did you know there is a holiday lights map here in Spokane? If you're really wanting to get some attention you can submit your address to
KHQ
and earn your spot on the map. This could be beneficial if you're trying to sell your house. And, bonus, they take submissions all season long! So, if you missed it this winter, give it a go next year!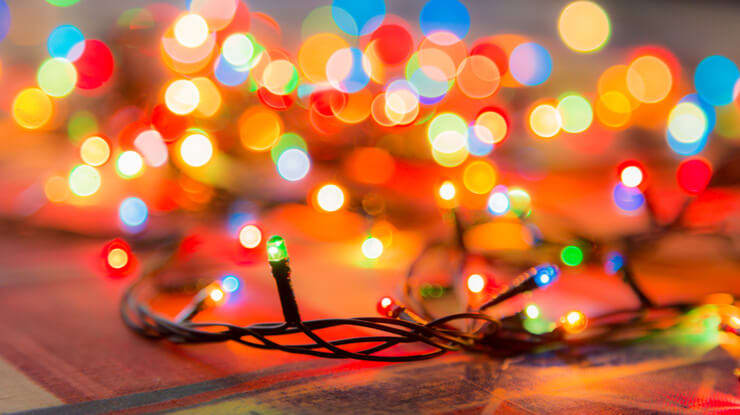 3. Bring in the friendly community wildlife!
Enjoy the sounds of birds and small woodland creatures right in your backyard. You could decorate your trees during the winter with feeder garlands that draw in the cute feathered creatures while making your home look holiday ready. Small strands of nuts, berries, and seeds can easily look like Christmas lights, but you can brag about benefiting your local community animals instead of burning all that energy.
4. Winterize your garden beds!
Come springtime, you want your flowers and plants to bloom and thrive. A fun and festive way to make this happen is to cover your flower and tree beds with pinecones! Not only does this give your yard texture and winter vibes, but the acidity from the pinecones actually improve plants such as blueberries or hydrangeas.
5. Give your mailbox a makeover!
When's the last time you redid your mailbox? Like, never? That's probably the answer the previous owner would say also. You would not believe how big of a difference it can make to change your mailbox design. When someone goes to look for an address, some properties only have it on their mailbox. What does it say to the interested party if they read your address on a broken or rusted mailbox? A makeover can improve the value of your home, more than you realize.
Happy Holidays!
Tanya Starkel